Insurance Disputes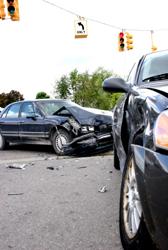 Insurance disputes involving injuries may arise from car accidents, uninsured motorist claims, or other personal injury claims. The dispute may lie with the insurance company for the at-fault party, or in some cases, with your own insurance company.
Do You Have a Claim?
If you have suffered an injury from a motor vehicle accident, you may have a claim for negligence. Anyone who chooses to operate a motor vehicle must exercise reasonable care to obey the traffic laws of the State of Illinois and to take reasonable measures to avoid an accident. Failure to do so may constitute negligence and gives rise to a claim for damages, including medical expenses, pain and suffering, lost wages, loss of income, and other damages resulting from the accident. In some cases, the amount of damages you are entitled to receive may be considerable. (Some examples of attorney John Malm's Recent Settlements may be read above).
It May be Possible to Settle Your Claim Without Filing a Lawsuit
Nobody asks to be injured, and nobody wants to be involved in a lawsuit unnecessarily. An injured person may feel reluctant about consulting with an attorney before speaking with the insurance company. Some tell me, "I am not the type of person to file a lawsuit." Does this describe you? If so, you are not alone. You should be aware that not every injury claim becomes a lawsuit. In fact, very few claims are ever filed as lawsuits and fewer still are presented in a trial. Given the substantial delays and costs of litigation, there is sometimes little economic sense in filing a lawsuit when a reasonable settlement can be obtained out of court.
Before speaking with an insurance company concerning a possible settlement, there are some important things you should consider. Remember, the insurance company is motivated to quickly close your claim, or to settle the claim for the least possible amount. Speaking directly with the insurance company on your own is not advised, and it may be a serious mistake. Sometimes, an unwary client may inadvertently concede facts that are not yet established by the evidence or say something that allows the carrier to set the "reserves" for the claim too low, even before medical treatment is completed.
Often a client's injury claim does not receive serious consideration until my law firm has been retained to act on their behalf. A knowledgeable attorney can present an informed settlement demand package, highlighting the relevant evidence that would be presented to a jury, if the case were ever to be taken to trial. A carefully prepared settlement demand followed by thorough and exhaustive negotiations may result in a favorable settlement—even in those cases in which no reasonable offer of settlement was initially made by the carrier.
Proving Negligence or "Fault"
The "fault" in causing the accident and the resulting harm you have suffered may be allocated to the responsible party -- and to their insurance company -- by proving the other diver was negligent. In presenting a claim of negligence, you must show that the other driver breached a specified "duty" owed to you (like a traffic law, a duty of reasonable care, etc.) and that your injuries occurred due to the other driver's breach of that duty, or what is known as "negligence."
You may already have a sense of who is "at fault" in causing the accident. But proving fault can sometimes be complicated by issues of fact (i.e., failing to reduce speed or stop for traffic control device) or issues of law (i.e., duty to yield to oncoming traffic while turning left). Examples of the type of actions, on the part of either driver, that may have contributed to the accident often include:
Failure to reduce speed or stop at a red light or stop sign
Driving at an excessive speed, in excess of the posted speed limit or in excess of that permitted by weather conditions
Driver distraction caused by a cell phone, passenger or radio
Failure to yield to oncoming traffic or obey traffic laws regarding right-of-way
Driving under the influence of alcohol or drugs
Demand All of the "Damages" to Which You are Legally Entitled
You must consider what types of damages are legally compensable in your claim, and what amount of damages a court or jury is likely to award. You may be entitled to:
future medical expenses
valuable lost time from work
costly effects of disability
painful disfigurement
loss of a normal life, and
pain and suffering (being past, present and future)
There are strict rules governing what evidence will be admissible, and what will not. In some cases, you may need a consultant to testify about (or "prove-up") certain damages, such as lost future earning capacity, or whether the amounts charged for services were "reasonable and necessary, customary and usual." Knowing what damages will be admitted into evidence, and how, is critical to obtaining a fair settlement.
How Will You Know if it is a Fair Settlement? Consult an Attorney
The insurance company may extend an offer of settlement to you in the hopes of closing an otherwise valuable claim, sometimes before necessary additional medical treatment has been undertaken. If you have never been involved in an accident claim, or if you are not an attorney experienced in handling injury claims, you may not know whether the insurance company is negotiating in good faith. Be careful. The insurance company's claim adjuster may sound sympathetic to the injured person. But remember, underlying the adjuster's friendly telephone manner is a conflict of interest: the insurance carrier is motivated to settle and close the claim for the least possible amount.
Get What Your Claim is Worth. Here is an Example of How I Have Done it
In a recent case, I was the second attorney retained to represent a 57-year-old man who suffered a shoulder injury as a result of a rear-end-type automobile accident. The other driver's legal liability in causing the accident was not in dispute. The question for my client was, "what is my claim worth?"
My client had previously engaged another law firm to represent him against the insurance company. The at-fault driver's insurance carrier requested a settlement mediation, at which a settlement proposal was made. The insurance carrier and their attorneys initially offered $190,000 to settle the case. My client's former attorney urged my client to accept. Unsatisfied with the insurance carrier's offer, my client contacted me for a second opinion. I was asked to take over the handling of the case, and I put together a litigation strategy that I believed would increase the insurance company's offer of settlement.
I began taking sworn depositions of eyewitnesses to the crash, whose testimony I believed would be necessary to establish the severity of the impact, which caused the injury to my client. I engaged a vocational rehabilitation specialist to review my client's work restriction and offer an expert opinion concerning my client's diminished future employment prospects. Through the testimony of an economist, I argued that my client's future lost income claim would be significant. After completing depositions of the insurance carrier's own expert physician and economist, I prepared the case for trial. The case settled before trial for $737,500.
There is no substitute for hard work. By allowing me to review the facts surrounding the accident, the injuries suffered by my client, and execute an aggressive litigation strategy, my client obtained an additional $547,500 in settlement.
There May be Additional Insurance Coverage Under Another Policy
If the at-fault motorist has no automobile insurance, you may still be able to bring an "uninsured motorist" claim against your own automobile insurance policy, depending on coverage. In some instances, even if you do not have your own automobile insurance policy, you may be able to make a claim against an automobile insurance policy of a household or family member. There are written notices that must be filed and other steps that must be taken in order to bring an uninsured motorist claim; therefore, you should consult with an attorney right away.
Act Promptly and get Your Claim on File
My experience as a litigator has shown that when claims are initiated promptly, with proper notice to the responsible insurance companies, they are often given more consideration by the insurance carrier than claims that are delayed – even if the delay was for good reason. Speaking with an experienced attorney right away can provide valuable advice to assist you in dealing with the other driver's insurance carrier, explaining what you will need to do in order to successfully settle your claim and providing a reasoned strategy for how your claim can best be handled – whether through litigation or a negotiated settlement.
Always remember, there is a time limit for your legal claim, which is governed by a "statute of limitation." In Illinois, most personal injury claims arising from negligence are governed by a two-year statute of limitations. See, Illinois Compiled Statutes, Illinois General Assembly (Personal Actions), 735 ILCS 5/13-202 (Personal Injury—Limitation). In some instances, however, the statute of limitations is only one year (e.g., lawsuits against municipal entities or school districts), or is governed by a notice statute with special additional requirements that must be followed soon after the accident and before a claim or lawsuit can be filed later. Your claim will be barred if no lawsuit is filed before the expiration of the applicable statute.
Get Advice From an Experienced Attorney
There are several steps you should take following an accident. (See, What To Do When You Have Been Involved in A Car Accident). It is important to speak with a knowledgeable attorney right away. An experienced attorney will be able to issue required notices, obtain witness statements if needed or ensure that evidence is collected and preserved. If a settlement is reached, an attorney can provide valuable assistance in seeking an adjudication or reduction of medical or insurance liens. Don't battle with or even speak to the other driver's insurance company without first consulting with an attorney.
Contact Attorney John J. Malm
John J. Malm & Associates is an experienced personal injury law firm representing individuals and families who have suffered an injury or loss due to an accident. You may be entitled to a substantial settlement if you have been injured. Call 630-527-4177, or 312-422-6855, and speak with Attorney John J. Malm.